Is Kratom Legal Where I Live?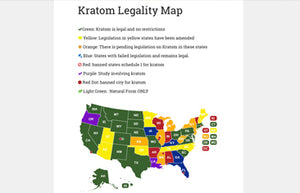 Kelly and I have been studying kratom, it's effects and efficacy lately. We're going to be producing videos that will address the perceived pros and cons in the coming weeks.
But a trend I'm noticing is that many sites say that taking kratom in capsules is too inefficient. I must disagree. You can fill 50 size 000 capsules that will yield 8 to ten 4g "doses" (I prefer servings) in under 10 minutes.
Another objection I've heard is that "it takes too long to dissolve in the stomach", and that's also incorrect. With either gelatin or vegetarian capsules, they will begin releasing the contents within 3-4 minutes on average. As with any powder, drink plenty of water.
It's easy to figure out the weight of the capsules once you know how. But is it legal where you live? Click on the link below to find the most current map that may answer that question.
More to come!